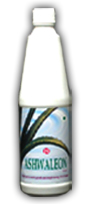 A non-hormonal side effect free delicious, Uniquely Processed Proprietory Ayurvedic syrup medicine for children of 12-18 years age group to help get height increase. It helps even if child's height is normal considering parental heights and nutritional status.
Withania Somnifera: Known as ashwagandha in Sanskrit. It has haematinics and growth promoters for growing children. It has natural plant hormones which promote bone growth in children.
Lepidum Sativum: Known as chandrashoor in Sanskrit. It is an appetizer, blood purifier and rejuvenative. It has highly bio available calcium to promote bone growth in children.
Achyranthes Aspera: Known as apamarg in Sanskrit. It is laghu, ruksha and kapha pitta samshodhak. It is blood purifier, haematinic, appetizer and anthelmintic. It in combination with withania somnifera helps in growth spurt.
Aloe Vera: Aloe Vera is a good immunostimulant. It increases growth of epithelial tissues. It acts upon cells within the body, usually by stimulating them into extra activity such as growth, replication and secretion. It is a good biological vehicle.