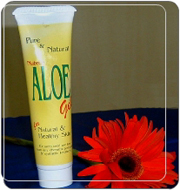 Pure and natural unscented Aloe Vera gel with no chemicals or artificial colourings.
Aloe Vera is anti-inflammatory, anti-bacterial, anti-pruritic. Aloe Gel is a daily natural dermal care to eliminate spots, enhance skin tone and rejuvenate aging skin.
Aloe Gel provides relief from minor cuts & burns, sunburns, dry chafed skin, lip rashes, acne, scars, itching, flaking, allergy rashes, insect bites, fever blisters, diaper rash etc. and skin diseases.
Aloe Gel is a natural synergist to soothe, heal, moisturise, and regenerate your skin.