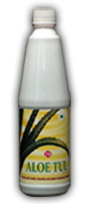 Aloe Vera with powers of Tulsi (Ocimum Sanctum) and Haldi (Curcuma Longa).
Aloe Vera apart from being an excellent biological vehicle synergistically stimulates the natural healing mechanisms of the body.
Tulsi is an anti-bacterial, expectorant, anti-spasmodic, adaptogen and helps in curing cold, cough, fever stress etc.
Haldi is an anti-inflammatory, anti-microbial, anti-oxidant and is used in respiratory disorders and relieves pain & inflammation in mucosal tissues.
Aloe tul boosts the immune system of the body and helps in healing cold, cough and fever arising due to allergies and infections. It also helps to remove "ama" toxic residue, which can lead to many diseases. Aloe tul improves lung functions and helps to treat upper respiratory disorders.