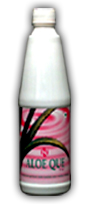 Aloe Vera with goodness of Shankhpushpi (Convovulus Microphyllus) and Brahmi(Centella Asiatica) in delicious orange flavour. Aloe vera is a wonderful plant with many health-supporting properties. Its an excellent biological vehicle to carry other nutrients where needed while adding its own activity them.
Shankhpushpi is quoted in charaka to be single greatest herb for enhancing all three aspects of mind power; learning (Dhi), memory (Dhriti) and recall ( Smriti). Brahmi acts as an excellent oxygen carrier and increases one's learning ability.
Brahmi has been used to reduce mental fatigue, forgetfulness and chronic energy loss. In addition to all the benefits of Aloe Vera, Aloe Que boosts the immune system of the body and tends to stimulate general brain functions and creative thinking, when taken regularly.