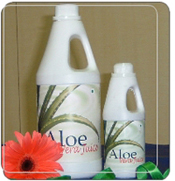 As a nutritional supplement, 30 ml for adults and 15 ml for children preferably on an empty stomach preferably in the morning is recommended to maintain normal health. As a therapeutic nutritional support, larger amounts may be used depending on the illness as per body's requirement.
Though Aloe Vera juice taken directly is the most preferred, it could be taken with water, juice etc. To make it more palatable,it is also available in delightful flavours.
People may experience noticeable benefits within 6 weeks. However, we advise a regular intake for minimum 3 months for optimum benefits.The opened Aloe Vera Health Drink bottles must be consumed within 45 days. It is preferable to store the opened bottles in the fridge, however it can also be stored in any cool, dark and dry place, away from direct sunlight and heat.